Rescue & Jessica
Based on a real-life partnership, the heartening story of the love and teamwork between a girl and her service dog will illuminate and inspire. Its Rescue and Jessica by Jessica Kensky, Patrick Downes and illustrated by Scott Magoon.
Written by Boston Marathon bombing survivors Jessica Kensky & Patrick Downes, Rescue & Jessica is based on their real-life experience with Jessica's service dog Rescue. Rescue thought he'd grow up to be a Seeing Eye dog—it's the family business, after all. When he gets the news that he's better suited to being a service dog, he's worried that he's not up to the task. Then he meets Jessica, a girl whose life is turning out differently than the way she'd imagined it, too. Now Jessica needs Rescue by her side to help her accomplish everyday tasks. And it turns out that Rescue can help Jessica see after all: a way forward, together, one step at a time. An endnote from the authors tells more about the training and extraordinary abilities of service dogs, particularly their real-life best friend and black lab, Rescue.
This book is perhaps the most personal work I've ever done, closely connecting personal experience, work and love for the city of Boston. I was running the 2013 Boston Marathon as an unofficial (or "bandit") runner on Boylston Street when the first bomb exploded in front of me. 12 seconds later, the second bomb detonated behind me. I felt the concussion wave on my back, my ears rang and then, all around—pandemonium. Panic in my heart—I knew my wife and two boys (ages 8 & 6 at the time) had made their way to Boylston street's finish line and were somewhere nearby waiting to watch me pass. Where were they? Were they ok? As I abandoned the course, my iPhone rang—it was Christy to say they all were ok. Thank God. We met several very tense minutes later, shaken but relieved to be reunited. Unlike so many around us—like Patrick and Jessica—we escaped physical injury but I struggled with post traumatic stress disorder in the aftermath.
In my own homemade effort to recover, I tried to find some kind of silver lining or some deeper meaning to that day: What could I learn from it? How could I help in a meaningful way using what I had learned? It was to no avail. Fortunately, with time, I found relief from the PTSD. I had even come to accept that the whole experience would always feel pointless.

Until 2016.
That's when I was asked by my dear friends at Candlewick Press to do this book and I saw the universe wink in the way that it sometimes does. Here was a chance to do something constructive and bring my own personal experiences to bear in a way I knew how. With Patrick and Jessica's text, I would draw a picture book for young readers to try to describe what its like to live with traumatic experience. To help to start to demystify what it means be a person with disabilities, show a part of what it's like to live and work with a Service Dog, and show that no matter what happens, there's always some light at the end of the tunnel, somewhere.
These experiences have taught me in so many ways—big and small, seen and unseen—I am one lucky person.
Rescue & Jessica is proudly published by Candlewick Press in Somerville, Massachusetts. A portion of the proceeds from the sale of Rescue & Jessica will benefit NEADS, National Education for Assistance Dog Services, a non-profit organization that was established in 1976 and based in Princeton, Massachusetts. Their Service Dogs become an extension of their handlers and bring freedom, physical autonomy and relief from social isolation to their human partners who are deaf or have a disability.
Rescue & Jessica is now available everywhere but you can order online from Amazon, B&N, Target and Indiebound.
Teacher's Guide
Rescue & Jessica's teacher's guide will provide you with discussion prompts about understanding individuals with disabilities, ways to learn more about Service Dogs, and activities to strengthen your classroom's compassion, inclusion, and community. You can download the .PDF of it from here.
Activity Guide
This kit provides you with prompts for group discussions about understanding individuals with disabilities and the roles and talents of Service Dogs. The included activities will help build your participants' compassion and empathy while they learn about inclusion and community.
You can download it from here.
Audio
Visit this link and listen to me introduce and share some of the backstory for creating Rescue & Jessica: A Life-Changing Friendship. Thanks to the dedicated staff at TeachingBooks.net.
My connection to the story
2013
I am so proud to report that I ran the 2018 Boston Marathon for Rescue's Racers, benefitting National Education for Assistance Dog Services (NEADS) on their mission to train service dogs for people with disabilities. Together we raised $10,090 in running this marathon, my first since 2013, the fifth anniversary of the bombing. These funds will help train a service dog for someone in need. Thank you for all of your incredible support.
On the Road
Images captured on the promotional tour and more.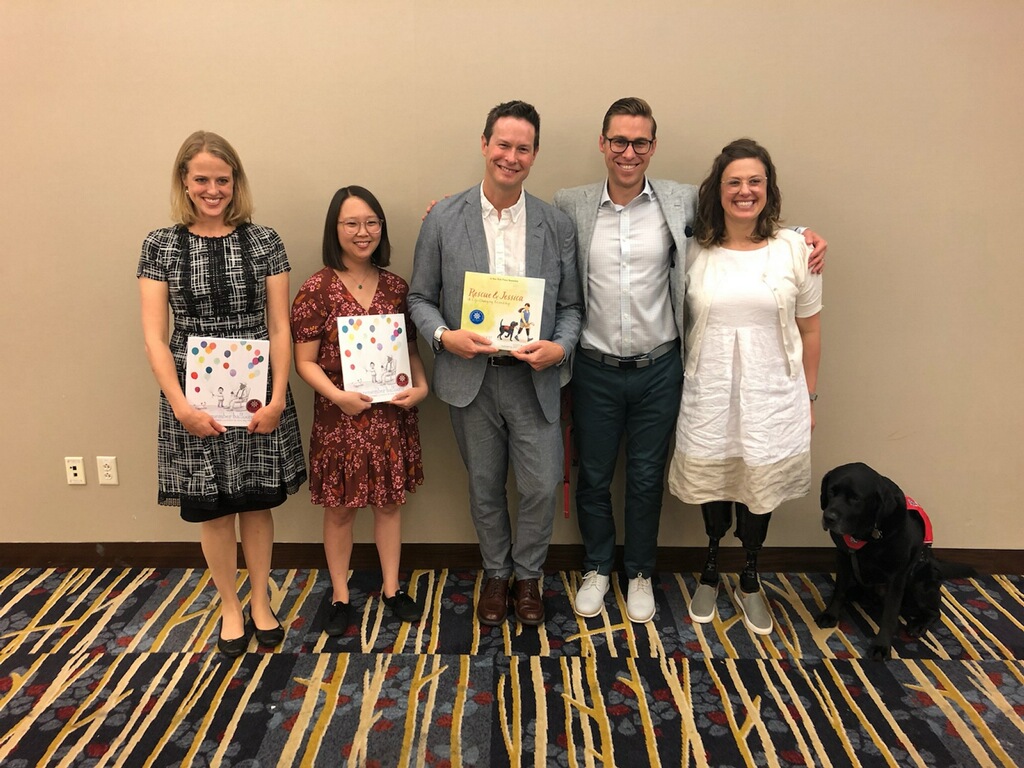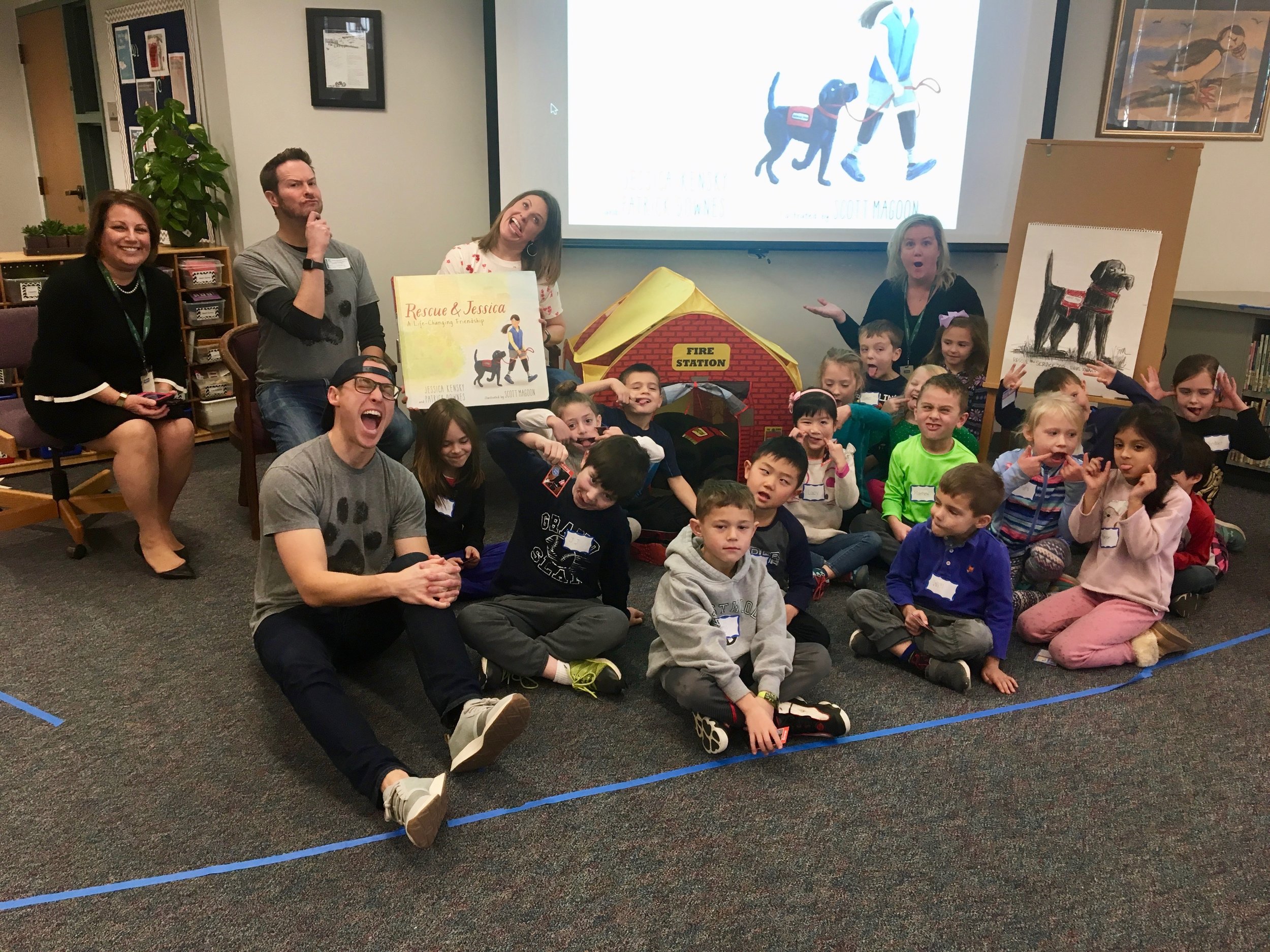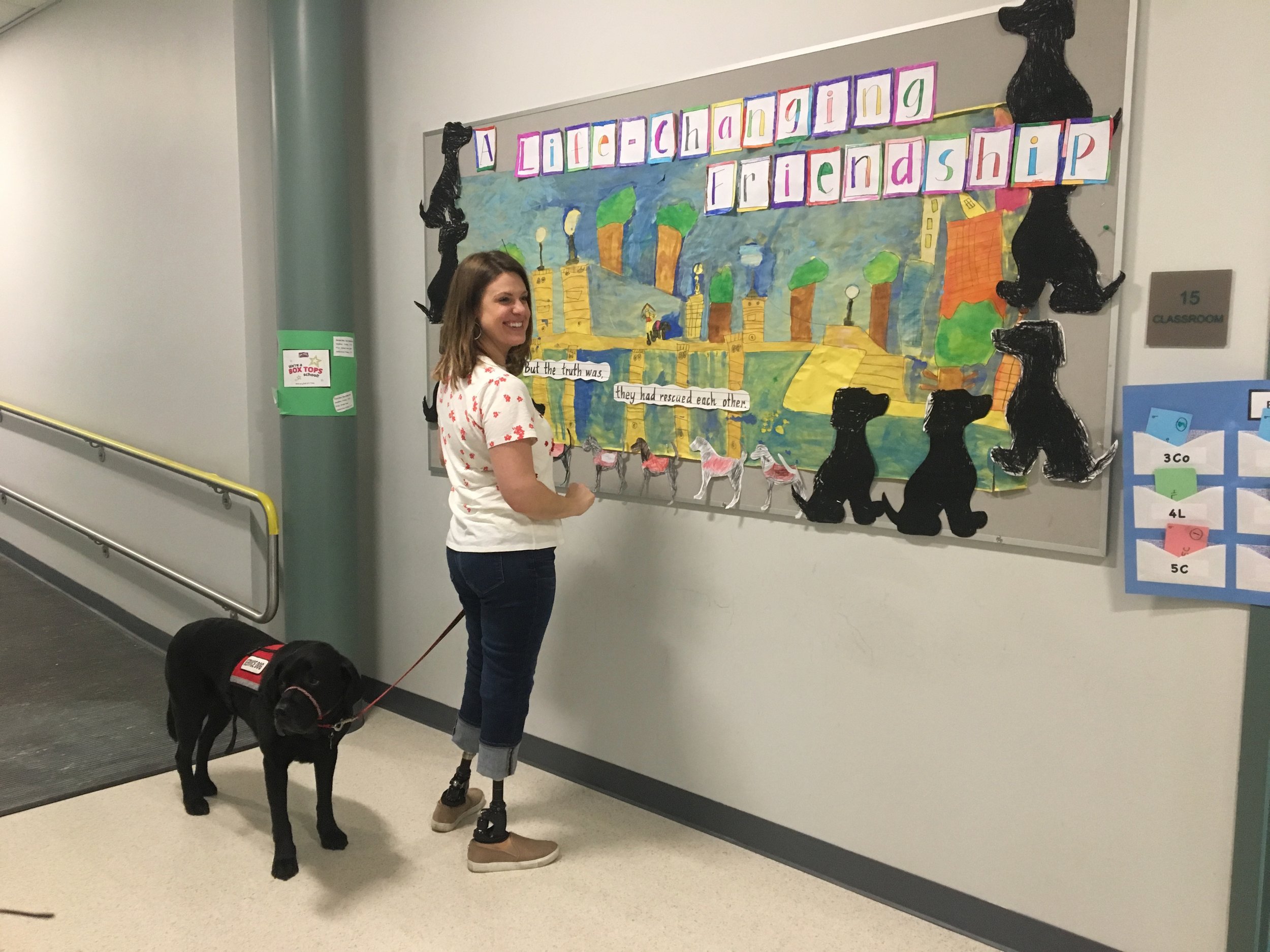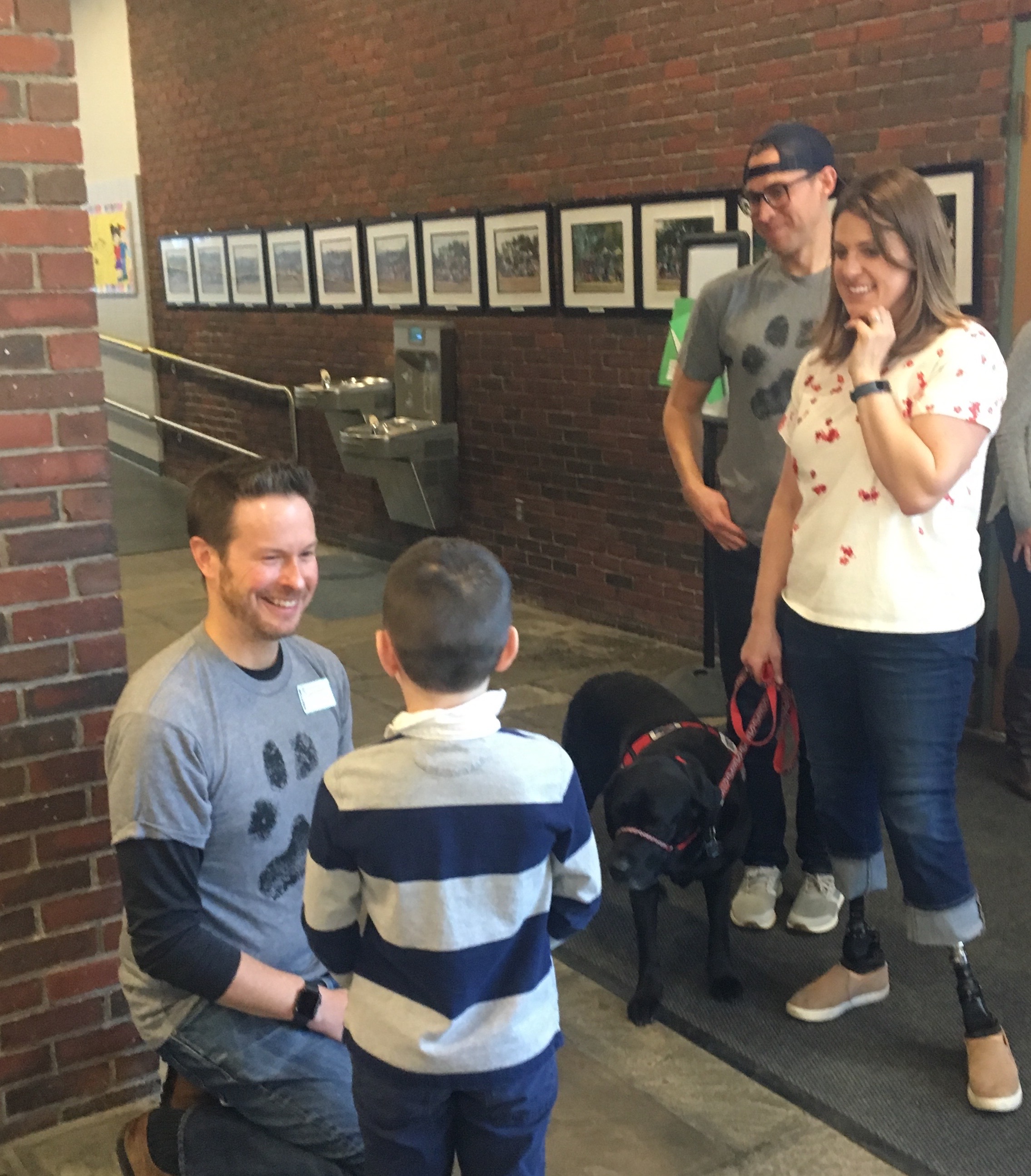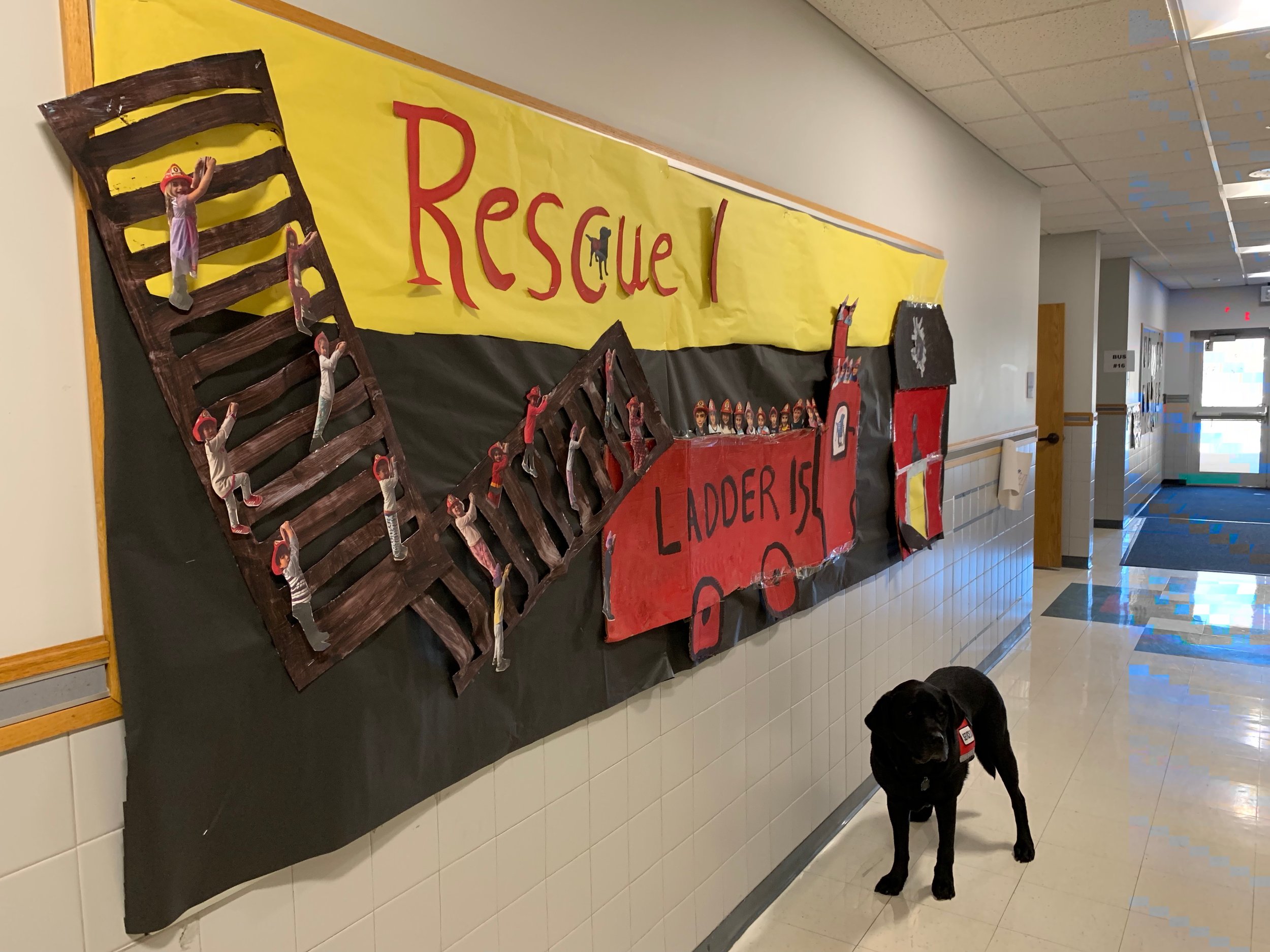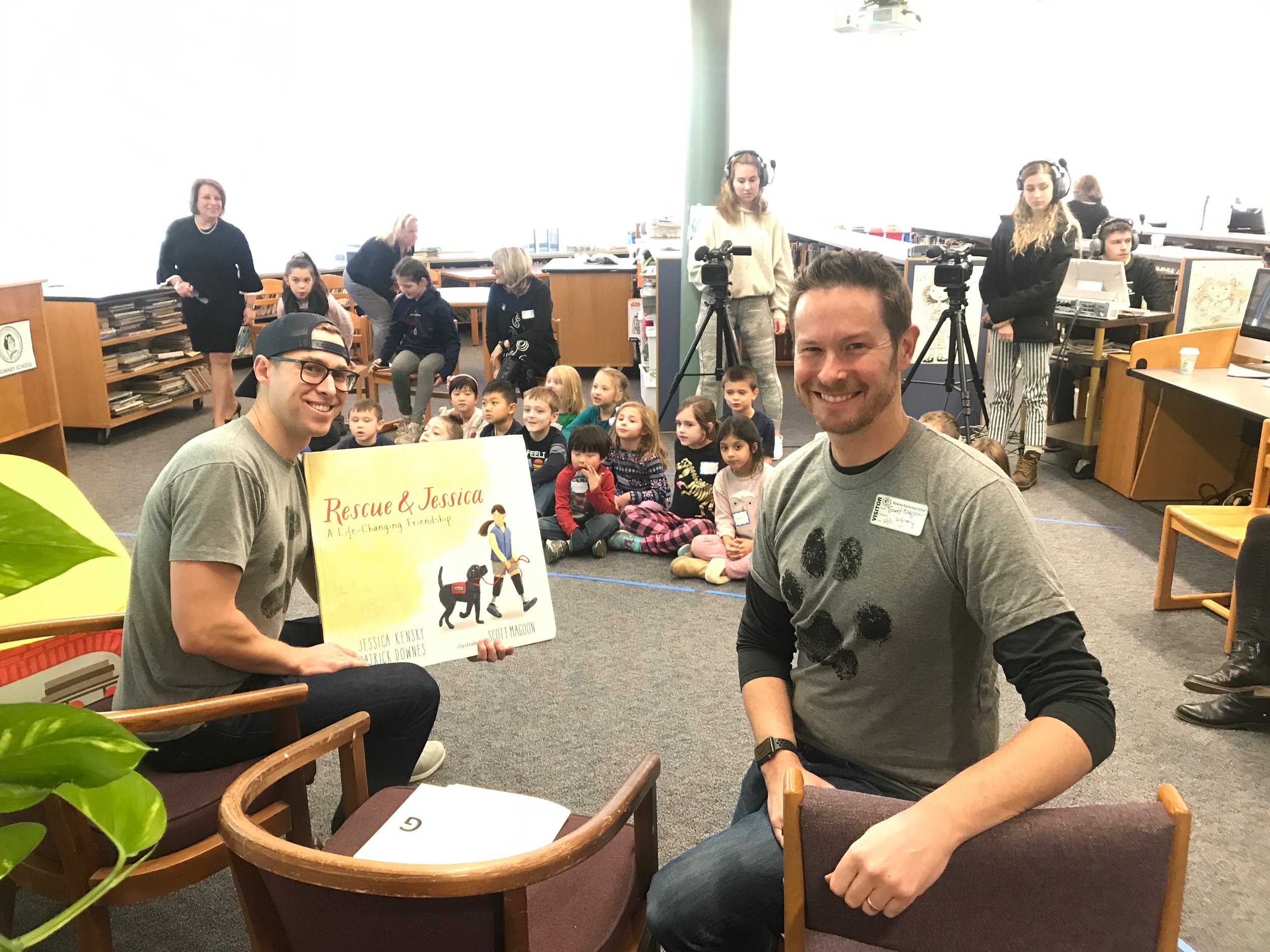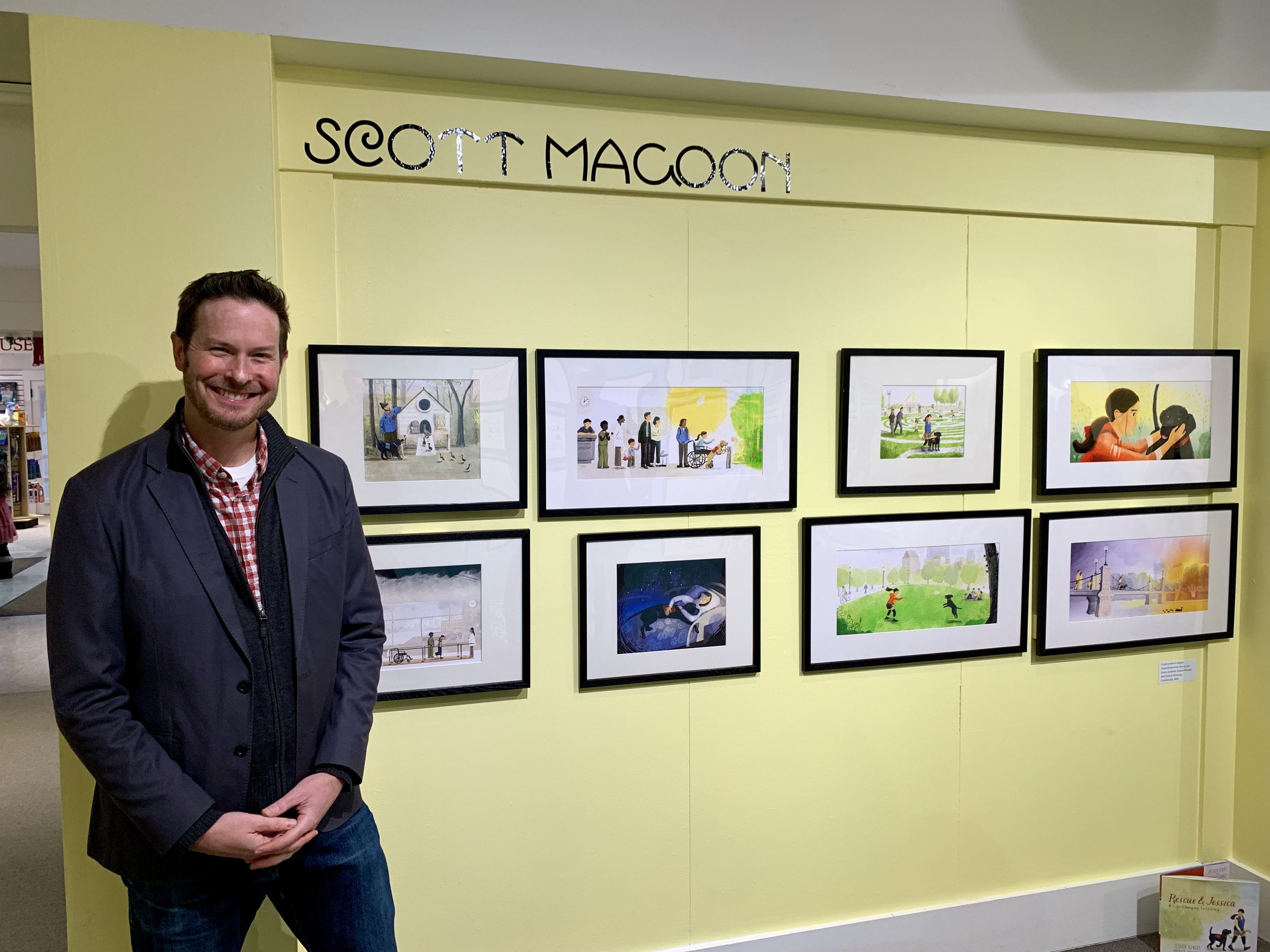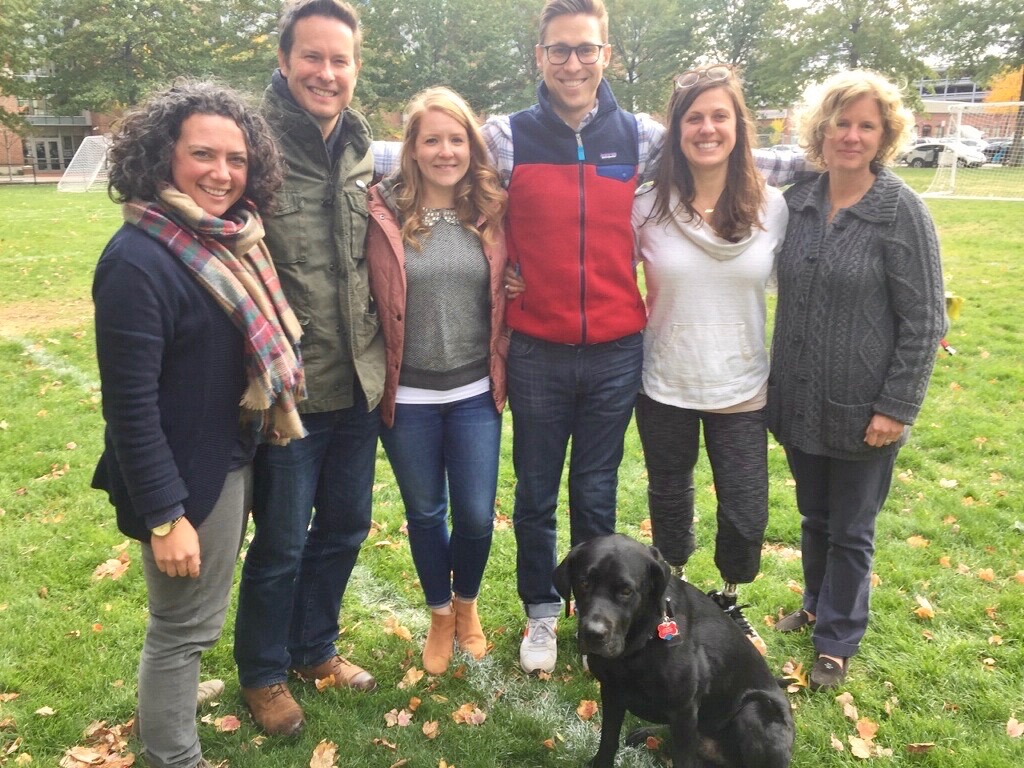 Praise
★ This riveting story about the relationship between a disabled girl and her black lab service dog is based loosely on Kensky's own experiences as a double amputee. The author's note mentions how she and husband Downes were injured in the Boston Marathon bombing in 2013, but readers don't need to know this to be caught up in the story. The book follows two struggles: that of Rescue, a lab in training as a service dog, and of Jessica, a girl hospitalized by an injury, who must learn to cope with prosthetics, a wheelchair, and a whole new world of challenges. . . The digital illustrations wonderfully underscore Jessica's journey from darkness (the overview of her hospital bed shows her family surrounded by blackness, for example) to light—the pages are filled with gold, green, and movement once Jessica and Rescue start working together. An inspiring tale of compassion and perseverance. — Booklist Connie Fletcher, starred review
Scott Magoon's colorful digital illustrations are pitch-perfect here: detailed enough to convey a sense of reality, yet softened and stylized in a way that will make the emotional intensity bearable for children ages 5 to 9. Young readers may also be delighted by the tasks that Rescue and dogs like him can perform, from fetching a ringing cellphone and opening the fridge to knowing exactly when his human needs consolation. —Meghan Cox Gurdon, The Wall Street Journal
The author's true story of her friendship with her service dog. Rescue, a young pup is training to become a service dog, learning to fetch things, to open doors, and even to turn on lights. Jessica is recovering from an injury to both of her legs and is getting acclimated to using prosthetics and walking again. Each is worried about their skills and their futures, but when they are eventually paired, it is an instant connection and realization that they can do so much together. The power of their relationship is made quite clear throughout the book. Kensky, and her coauthor and husband Downes, were both injured in the 2013 Boston Marathon bombing and have chosen to leave that particular detail out of the primary narrative. Instead, they focus on the work that Rescue does to aid Jessica every day and the intensity of their relationship. Magoon's digital illustrations are a lovely accompaniment to the text, providing rich detail to the spare story, and the scenes of Jessica and Rescue playing and working with the Boston skyline as a backdrop only add to the poignancy. ­VERDICT This is a strong selection for any collection, and stories about working dogs never get old; this will be appreciated and enjoyed by a wide variety of young people.—Publishers Weekly Jody Kopple, Shady Hill School, Cambridge, MA
The quiet and stirring text pairs beautifully with the art, which uses color and white space to convey time, meaning, and emotion with great effect...In the main text, Jessica's injuries are not explained; the story instead focuses on the power and comfort that comes from her relationship with her service dog. —The Horn Book
Soft digital illustrations depict their respective challenges. The authors don't dwell on Jessica's frustration; Rescue's buoyant effect on her well-being makes pity impossible. Magoon uses dark backgrounds to symbolize Jessica's sadness and fear, but scenes with Rescue are open and bright; with Rescue nearby, even the night after her second amputation is lightened (via lamplight and stars). A gentle introduction to service dogs and acquired disability. —Kirkus Reviews
Kensky and Downes streamline their character's medical ordeal and her process of learning to walk again, highlighting the moments of quiet victory as well as those of despair. Magoon's (I Have a Balloon) realistic digital illustrations poignantly capture these experiences, offering images of the girl and dog that emphasize the fact that theirs is a mutual rescue. The artist, who like the authors is a Boston resident, provides affectionate, sunlit glimpses of that city—including one featuring a mother duck swimming with her ducklings. —Publishers Weekly
". . .this story of courage, adaptation, and a positive attitude to overcoming obstacles is thoroughly inspiring." —Kendal A. Rautzhan, Books to Borrow . . . Books to Buy
"This true story shows the major role dogs like Rescue play in the lives of people with disabilities. Heartwarming and compelling, this book make it clear why dogs truly are man's best friend." —Dr. Jane Goodall
Recipient of the 2019 ALA Schneider Family Book Award. It honors an expression of the disability experience for young readers.

Christopher Award Winner! Affirms the highest values of the human sprit. More here.

Awarded Book of the Year in the Children's Book category by New England Independent Booksellers Association.

A Massachusetts Center for the Book Must-Read 2019 picture book selection.

Selected for ILA 2019 Teachers' Choice Reading List which features books that kids might not discover w/o intro from educator.

Nominated for the 2019-2020 Keystone to Reading Elementary Book Award in Pennsylvania. More here.

On the 2020 Monarch Award (IL) master list, here.

Recipient of a 2018 Parent's Choice Approved Award.

On the Horned Toad Tales list! List honors books cultural diversity in Cypress Fairbanks Schools in Harris County, TX.

Society of Illustrators The Original Art 2018 juried art show acceptance.

Amazon selected Rescue & Jessica as one of the best books of 2018!!

The Children's Book Review chose Rescue & Jessica as one of the best books of 2018. Read about it here.

A Mighty Girl selected Rescue & Jessica as one of the best books of the 2018. Check out their great list here.
In the Media
On TV
Online
In Print
Congratulations to our 2019 Nonfiction March Madness Champion! @rescueboston @smagoon It was so exciting to make this announcement on the anniversary of your incredible book! Thank you for the beautiful messages that you shared with our students! pic.twitter.com/Vu4PfJk0AD

— Shelly Moody (@shelmoody) April 4, 2019
Congratulations, @rescueboston and @smagoon! pic.twitter.com/adUWtwK5Fp

— John Schu (@MrSchuReads) January 28, 2019
Our AWESOME @CopelandCFISD 2nd graders got to see the REAL Rescue & Jessica this morning in a live webcast with the creators of the book! Thank you @smagoon, Jessica Kensky and Patrick Downes! #ColtsCARE pic.twitter.com/jYxXlOnvvP

— The Copeland Library (@CopelandReads) December 11, 2018
Character Pumpkin! Son loves loves Rescue & Jessica He has worked hard to turn this 🎃 into a 🐕 @smagoon we had to share with u! @rescueboston So proud this is one of his many favorites! pic.twitter.com/EDt7Aamr5J

— Jennifer Barber (@jbarbernc) October 22, 2018
Also spent some time listening to Jessica Kensky & Patrick Downes talking about Rescue, his story and theirs at #NationalBookFestival! Stunning artwork by @smagoon! Take the time to read this true and inspirational story on many levels 📚❤️ pic.twitter.com/oLZ3P5H4gH

— Rebecca Reynolds (@Melady2000) September 3, 2018
A gigantic, heartfelt THANK YOU to everyone who came out to our event with @rescueboston @ReadingPubLib last night! We sure had home field advantage and there was so much ❤️ @ Community Rooms A and B!! Thanks 2 @WhitelamBooks & @Candlewick for helping make a memorable night! pic.twitter.com/e1LpJmdRqT

— Scott Magoon (@smagoon) May 2, 2018
Patrick, Jessica & Rescue spoke with Amazon Books recently.
We had a great night tonight learning about @rescueboston with @smagoon - what a great way to use our cookie money! @GirlScoutsEMass @Candlewick pic.twitter.com/a8Uee7S0JN

— Sarah Leshay (@sarahleshay) April 26, 2018
I received the best gift tonight - the book, "Rescue and Jessica." Thank you, Jack and Maurice the Service Dog. #rescueandjessica @rescueboston @NEADSdogs @Candlewick pic.twitter.com/t6Ov83V1f8

— Carolyn Thorne, DVM (@CMThorneDVM) April 11, 2018
Listening to @smagoon read this love letter to the city of Boston. Tears flowing ! Buy it NOW!! @rescueboston #mrac2018 pic.twitter.com/TnQsuNcOQi

— TeachersforTeachers (@ClareandTammy) April 9, 2018
Patrick Downes is with @smagoon and Jessica Kensky, reading "Rescue and Jessica: A Life-Changing Friendship", to a full house at the book launch at @BPLBoston this afternoon. @rescueboston #bookaday #kidlit #RescueAndJessica pic.twitter.com/VDD5uezAwU

— Ioana Hobai (@ioanahobai) April 5, 2018
Live now on @wbz News at 8pm — Rescue (the service dog!) and Boston Marathon bombing survivors Jessica Kensky & Patrick Downes talk about their new children's book! With @PaulaEbbenWBZ & @LiamWBZ pic.twitter.com/EcZAvKGdIj

— Sean Barnacoat (@BarnacoatWBZ) March 31, 2018
Sunday @bostonmarathon training with #rescuesracers captain @smagoon! Support his fundraising for @NEADSdogs here: https://t.co/SEfTjKudKQ pic.twitter.com/HXqjrTcDC7

— RescueBoston (@rescueboston) March 18, 2018
Updated tour schedule with times, addresses and a Big 🍎 event for all you #NYC dawgs!!! @smagoon @Candlewick pic.twitter.com/KB6C2bLUCg

— RescueBoston (@rescueboston) March 22, 2018
Behind the Scenes
Here are some development sketches I created while working on Rescue & Jessica. Click on the thumbnails to expand and read more about each.
Sketch Time Lapse
Watch how the sketch for this spread evolved over time.