Misunderstood Shark
Every beachgoer knows that there's nothing more terrifying than a... SHARRRK! But this shark is just misunderstood, or is he? In a wholly original, side-splittingly funny story, New York Times bestselling author and illustrator team Ame Dyckman and Scott Magoon take this perennial theme and turn it on its (hammer)head with a brand-new cheeky character.
There must be some misunderwaterstanding.
Every beachgoer knows that there's nothing more terrifying than a... SHARRRK! But this shark is just misunderstood, or is he? In a wholly original, side-splittingly funny story, New York Times bestselling author Ame Dyckman and I take this perennial theme and turn it on its (hammer)head with a brand-new cheeky character.

The filming of an underwater TV show goes awry when the crew gets interrupted by a... SHARRRK! Poor Shark, he wasn't trying to scare them, he's just misunderstood! Then he's accused of trying to eat a fish. Will Shark ever catch a break? After all, he wasn't going to eat the fish, he was just showing it his new tooth! Or was he? Explosively funny, clever, and even full of fun shark facts, this surprisingly endearing story gets to the heart of what it feels like to be misunderstood by the people around you. With a surprise twist ending, our Misunderstood Shark will have kids rolling with laughter!
I had so much fun illustrating Shark and his crew—I know that your young readers will eat it up.
Published by Orchard Books (an imprint of Scholastic), Misunderstood Shark is now available at your local library, bookshop or to order on Amazon, B&N and Indiebound!
Praise
The live TV show "Underwater World with Bob," staffed entirely by aquatic creatures, is suddenly interrupted by a shark who is about to consume a little orange fish right on camera. Once Shark realizes that he has an audience, he changes his tune. "You misunderstood!" he demurs, still clutching the terrified fish. "I was just... showing him my new tooth!" The host tries to play along, offering shark facts as Shark—smitten with his new public persona—claims that he is also being misunderstood when it seems like he wants to eat a baby seal or some beach-going humans ("I brought Band-Aids!" he roars). Shark is so persuasive that the octopus holding the boom mike declares, "The ocean gets its saltiness from the tears of misunderstood sharks! I read that somewhere." Magoon's cartooning is both funny and visually striking as the toothy, scenery-chewing Shark plays to the camera and zips through the green-blue water, barely resisting his primal urges. And the playful typography used for Dyckman's rapid-fire dialogue makes her blooper-reel humor even funnier. Ages 4–6. Author's agent: Scott Treimel, Scott Treimel NY. Illustrator's agent: Rebecca Sherman, Writers House. (Apr.) —Publisher's Weekly
Dyckman gives ambiguity the narrative spotlight with well-honed tension prolonging readers' indecision. Meanwhile, Magoon's flair for underwater illustration also allows a shark's redemption and his prey's suspicion to both live on the page. Readers will need to decide for themselves if Shark is really as scary as he seems or if misunderstandings have colored our opinions. Fun and playful…or so Shark would have us believe. (Picture book. 4-8) —Kirkus Reviews
Kids will like the wild, exclamatory text . . . As she does in her title Wolfie the Bunny and Boy + Bot, Dyckman hits the mark of both hilarious and sweet. Magoon's illustrations (a pink jellyfish with a cowboy hat and glasses, a yellow squid working the boom mic, and a bright orange squid wearing his sunglasses on his forehead and working the clapper board) make up a fabulous cast that swim around in cool-colored waters, ranging from bright greens to deep indigos. VERDICT Make no mistake, this is a fun addition to any collection, best for reading close-up and one-on-one.–School Library Journal
The over-the-top humor, comical asides from the TV crew, and Magoon's boisterous, candycolored artwork, in thick lines and cartoonish shapes, will lure in many a reader. The sneaky shark facts will go down easy in this uproariously silly picture book. —Booklist
If you loved Shark, Bob and the gang then be sure to check out MISUNDERSTOOD SHARK FRIENDS DON'T EAT FRIENDS. Learn more here.
For the past few years this school creates their own musical based on an author's stories or a collection of children's books with a similar theme. This year, the idea was to use a few of their favorite ocean animal stories and to create a musical called 20,000 Leagues Under the Sea! They used our Shark as part of the show! Thanks Steph & Nika!
On the Road
At the Brooklyn Book Festival 2018
At Scholastic with Author Ame Dyckman
Misunderstood Shark week fun! Author Ame Dyckman and I sat down with our hosts Scholastic recently to talk Misunderstood Shark—and for our Ocean Pun Off! We made waves—I think we set the record for most ocean puns told in New York City that day. See what you think!
At the Eric Carle Museum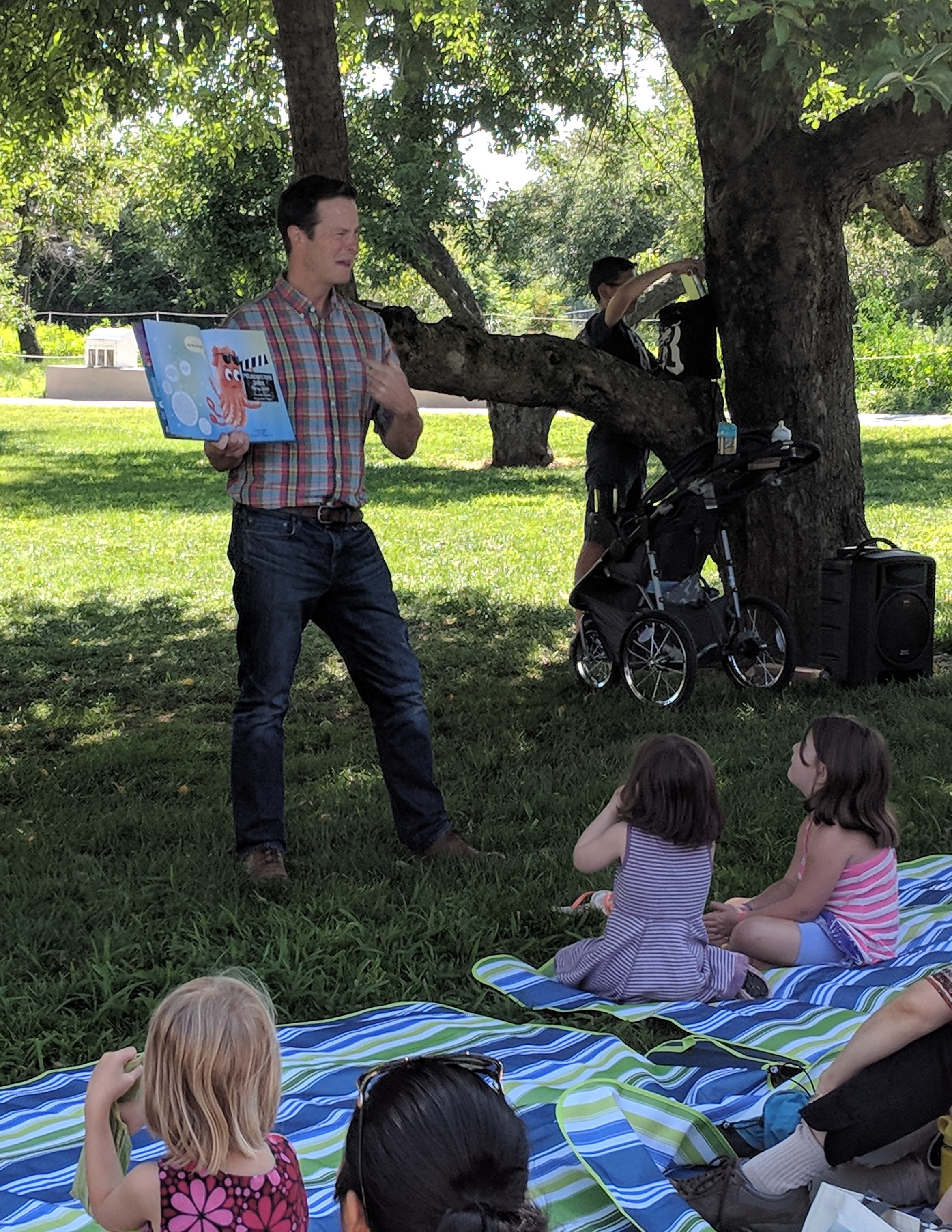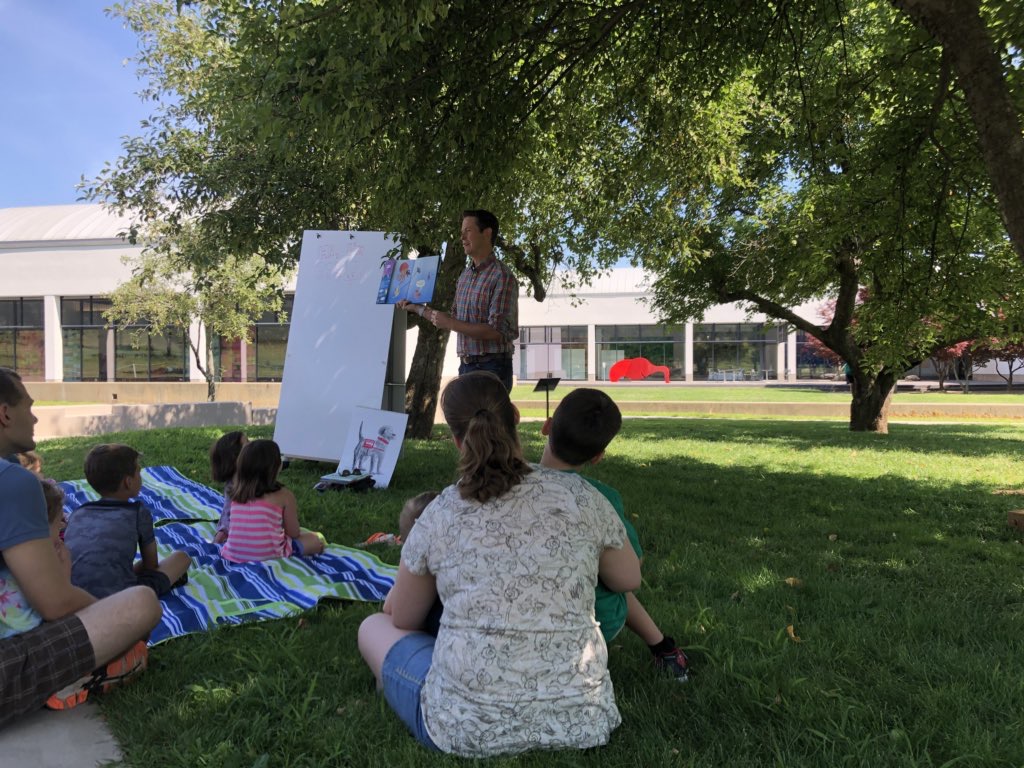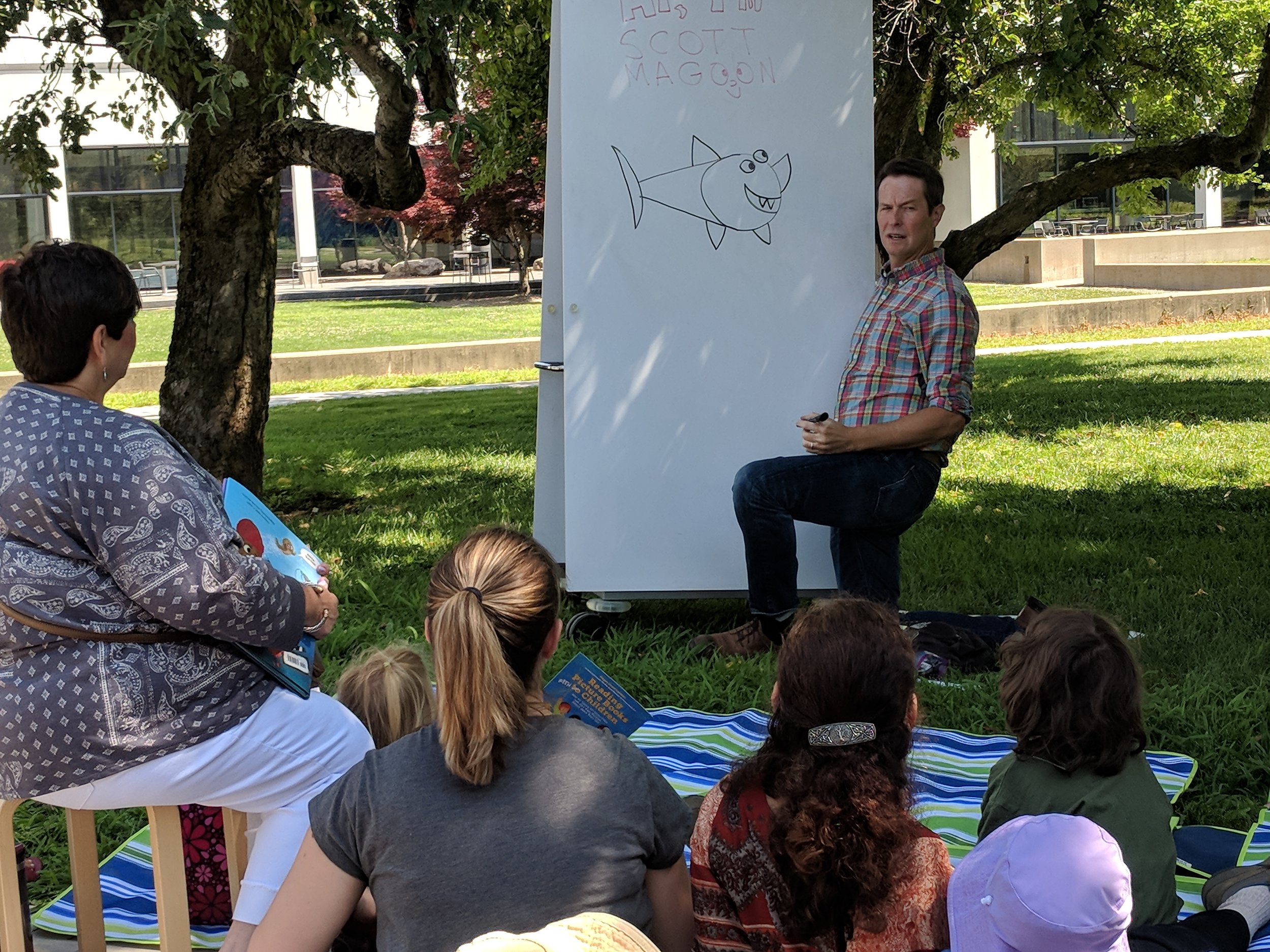 Behind the Scenes
Here are some development sketches I created while working on Misunderstood Shark. Click on the thumbnails to expand and read more about each.
Sketch Time Lapse
The drawing was ultimately not used in the book but its fun to see how a concept for a spread can change over time.
We loved Misunderstood Shark! Thank you @AmeDyckman for such a great book and our lovely bonus: the fabulous bookmarks! #fluentinsuccess @ASJohnston1 pic.twitter.com/DNYOdohu7d

— Mrs. Centeno (@MrsCentenoo) April 22, 2019
Today's book of the day is Misunderstood Shark by @AmeDyckman, illustrated by @smagoon. Eva said, "The book is silly, and I learned some cool facts about sharks. They can lose 30,000 teeth - what?!" #LoweryPROUD @LibraryLowery pic.twitter.com/LVrqSVwCRP

— Karen Armstrong (@karmstrong62114) April 3, 2019
#bookbattle finals- Misunderstood Shark by @AmeDyckman vs. That is Not a Good Idea by @MoWillems Students will be voting this next week! Two amazing books and two amazing authors! #leanderisdlib #jpepride pic.twitter.com/1UFx9mWE7E

— JPE Library (@JPElibrary) March 28, 2019
@smagoon @AmeDyckman Some technology issues—BUT...check out their excitement!!! pic.twitter.com/E54ZkYndP3

— Lizzeth Fausto (@LaMaestraFausto) March 21, 2019
Misunderstood shark for the win! 🦈 Our bracket is ready - can't wait to dive into these books! #Marchmadness #rooneyreads 📚@AmeDyckman @RoaryRR @JeffcoSchoolsCo pic.twitter.com/BXWaDr6hI3

— Mrs. Felten's Class (@feltenfirsties) March 5, 2019
Happy #KidLit Halloween everybody! Here is my Mr. Shark and Bob costume based on @AmeDyckman & @smagoon hilarious, fact-filled new book Misunderstood Shark. My Mr. Shark hasn't finished his fin mom tattoo yet,but he's almost done! #CannadayES #misdlibraries @scholastic @ozsaidso pic.twitter.com/Y28H9TGJXN

— Ro Menendez (@romenendez14) October 31, 2018
Thank you @mrsdole and Mrs. Leverton for this delightful addition to our One Community, One Book mural! @gcspartans #GCReads @AmeDyckman @smagoon pic.twitter.com/EmOvIlGad5

— ᗰᖇ. ᔕᗩᗰᗰOᑎᔕ (@MrBSammons) September 29, 2018
The @smagoon fan club at #PPLBookFest with @AmeDyckman 🦈🦉🎈🐒📚 pic.twitter.com/33M364wC1Q

— Ariel Bernstein (@ArielBBooks) September 22, 2018
27 thumbs up for @AmeDyckman MISUNDERSTOOD SHARK! We love our swag, too!! ❤️🦈 pic.twitter.com/gp1jxg93xO

— Barb Huston (@BarbHuston3) September 21, 2018
In honor of #SharkWeek, we sat down with @AmeDyckman and @smagoon — the duo behind the hilarious picture book Misunderstood Shark — and asked them some SHARKtastic questions! https://t.co/QgYVXCc1m9 #MisunderstoodSharkWeek pic.twitter.com/uwCQJf9czn

— Scholastic (@Scholastic) July 24, 2018
Misunderstood Shark Week
For a week in July I posted a Shark-related image each day during Shark Week. I think people understood?