I Have A Balloon
Owl has a balloon. Monkey does not. What will happen next? Hint: this is not a book about sharing.
Owl has a bright beautiful shiny red balloon. Monkey does not—but oh, how he wants Owl's. Owl does not want to give it to Monkey. So he tries to find something that Owl wants: a teddy bear, a robot, a picture of TEN balloons. Owl does not want any of these things. But then, Monkey offers him…a sock!

Hmmmmm…Owl is intrigued thanks to Monkey's compelling sock sales pitch. Will Monkey strike his deal with Owl and will they make their trade?
I love author Ariel Bernstein's fresh look at negotiation and compromise—I think you and your young readers will too. And did I mention there is a sequel? Check it out here.
Published by Paula Wiseman Books (an imprint of Simon & Schuster), I Have A Balloon is also available to read on iPad, Kindle and Nook apps and devices. Find I Have a Balloon at your library, Amazon, B&N or your local independent bookstore via IndieBound.
Available now!
Praise
★ "Bernstein's debut featuring an owl holding a balloon begins with a spoiler alert on the jacket flap: 'This is NOT a book about sharing.'
It is, however, an honest, humorous depiction of how one might cling to or covet possessions—behaviors that both children and adults will recognize . . . Magoon's digital caricatures provide the emotional content that will elicit identification and laughter. His funky monkey and staid owl are entertaining foils, and the would-be trader's pratfalls recall Warner Bros. cartoons . . . With an open-ended, wordless conclusion inviting predictions and possibilities, this tightly paced narrative soars above its message-driven counterparts." —Kirkus Reviews, starred review
★ "An owl and a monkey confront jealousy, the fickleness of want, and the influence of other perspectives in this high-energy story from debut author Bernstein and illustrator Magoon (I Will Not Eat You). . . Written entirely in dialogue, Bernstein's story never diverts focus from the characters' id-driven wants. Magoon's digital illustrations slyly reflect the changing power structure—Monkey spends much of the book on the forest floor, looking up at Owl, but they swap positions when Monkey's sock becomes the object of desire—while bringing big laughs through pratfalls and other physical comedy." —Publisher's Weekly, starred review.
"The illustrations of the two main characters are simple but animated, especially Monkey. He has a hard time hanging onto a branch by his tail, soars up to the sky with his robot, and looks cool in a fez and sunglasses. Even though the message of sharing is absent, this is still an amusing option for all. VERDICT A definite purchase that will be checked out again and again." —School Library Journal, Barbara Spiri, Southborough Library, MA
"The allure of other folks' stuff will be well understood by the audience, and both Monkey's histrionic arguments and Owl's smug refusals are cleverly captured in Magoon's expressive cartoon critters. The dialogue is perfectly tuned for a two-voice readaloud, and much of the vocabulary is easy enough that one of those voices could be a novice reader. The book never suggests sharing as a possible solution to this perennial problem, but maybe you don't need to share if everyone's content with what they have." —EB, Bulletin of the Center for Children's Books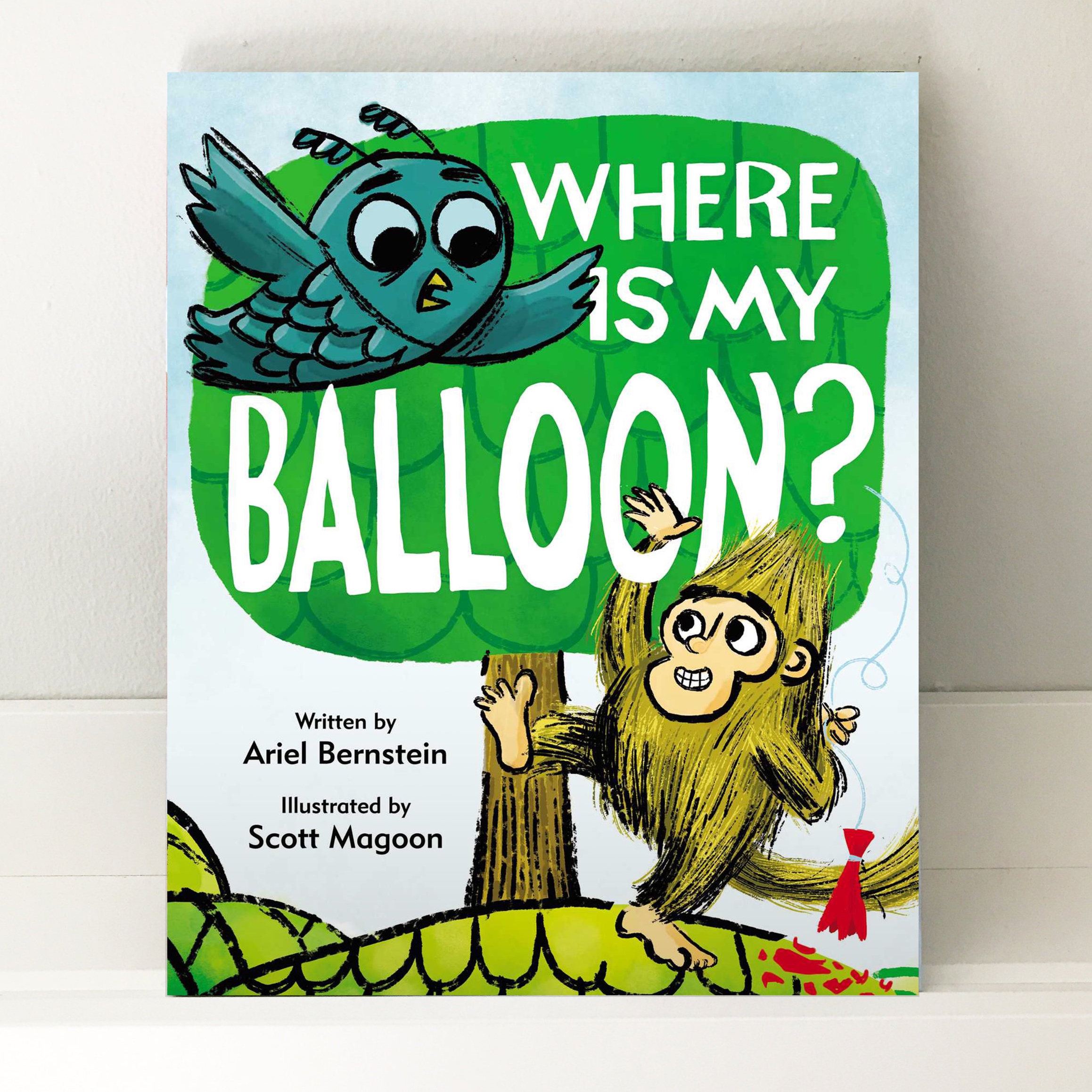 Owl has a balloon. Monkey has a sock with a star and a perfectly shaped hole. But then Owl asks Monkey to hold his balloon, just for a second. What do you think happens? POP! When Owl returns and asks for his balloon, Monkey offers him everything under the sun…except for the balloon. Can their friendship survive this catastrophe? Learn more.
Teacher's Guide
This guide (download here) is designed for students in kindergarten through third grade. It is assumed that teachers will adapt each activity to fit the needs and abilities of their own students. It offers activities to help teachers integrate I HAVE A BALLOON across the curricula. All activities were created in conjunction with the Common Core and other relevant content standards. Special thanks to Marcie Colleen who created this guide!
Signed fine art print for sale
Behind the Scenes
Here are some development sketches I created while working on I Have a Balloon. Click on the thumbnails to expand and read more about each.